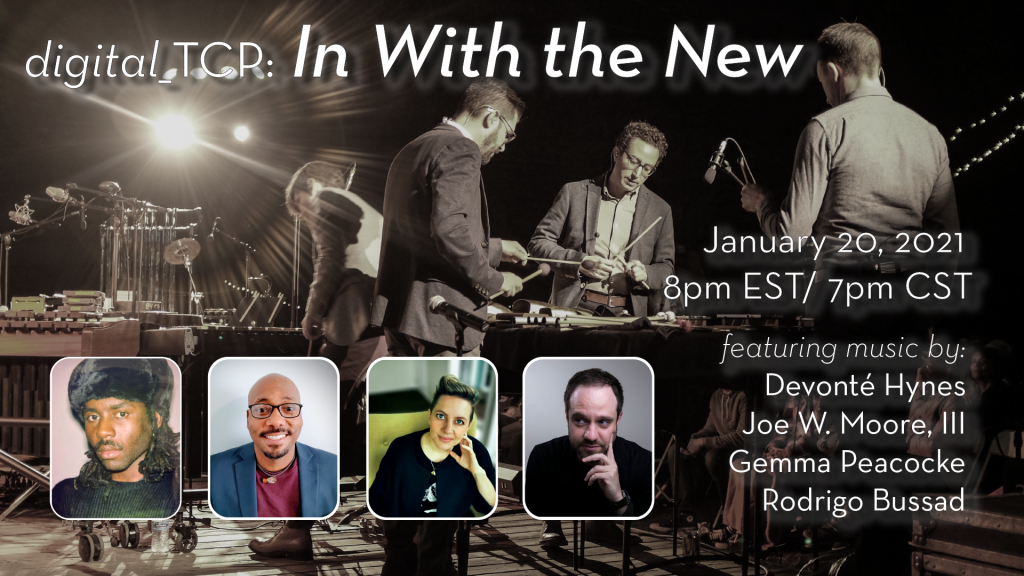 PROGRAM ORDER 
"Press" from For All Its Fury (2019)                      Devonté Hynes (b. 1985)
Halo (2011)                                                                     Joe W. Moore III (b. 1986)
Death Wish (2017)                                                      Gemma Peacocke (b. 1984)
Kodama (2019)                                                           Rodrigo Bussad (b. 1985)
PROGRAM NOTES
Devonté Hynes is a British singer, songwriter, composer, producer, and author, now residing in New York City. He has released five studio albums under the name "Blood Orange," and previously released two albums as "Lightspeed Champion." He has produced for artists such as Solange Knowles, Sky Ferreira, and Carly Rae Jepsen, and has made his own solo appearances on the Pitchfork and Coachella Music Festivals. Hynes plays cello and piano, and recently performed some of Philip Glass's etudes as part of an all-star lineup for Glass concerts at Carnegie Hall and the Kennedy Center. Hynes also has a background in dance and has worked with ballet dancer Maria Kochetkova and choreographer Emma Portner in his own music videos.
Hynes composed the music for an entire evening-length program featuring Third Coast Percussion and Hubbard Street Dance Chicago, with new choreography created by Emma Portner, Jon Boogz, and Lil Buck, which premiered in Chicago in September 2018. To create this 75-minute opus, Hynes composed music with synthesized and sampled sounds, which he then sent to Third Coast Percussion. TCP experimented with instruments to create a live performance version of the music, which they then recorded and sent back to Hynes for feedback, then eventually to the choreographers to create the dance. Tonight's program features a section of this program, "Press" from For All Its Fury, a 40-minute work choreographed by Emma Portner and Teddy Forance.
Third Coast Percussion's album Fields, which includes all of the music composed by Hynes as part of the project with Hubbard Street Dance Chicago was released on Cedille Records in October 2019.
This work was commissioned by the Charles and Joan Gross Family Foundation. The project was supported in part by an award from the National Endowment for the Arts, the Third Coast Percussion New Works Fund, and the Elizabeth F Cheney Foundation.
Duration: 3 minutes
Joe W. Moore III currently serves as Assistant Professor of Percussion at Benedict College in Columbia, SC. Active as a soloist and chamber musician, Moore performs as a member of the Omojo Percussion Duo, the Ninkasi Percussion Group, and Dead Resonance. His recent performances have included the Sugarmill Music Festival, the UTRGV Marimba Festival, the National Conference on Percussion Pedagogy, and the 2018 Percussive Arts Society International Convention.
As a composer, Moore's works have been performed and heard across the United States at state music educator conferences, the National Conference on Percussion Pedagogy, and the Percussive Arts Society International Convention. C. Alan Publications, Alea Publishing and Recording, Percussion Music Europe, and Innovative Percussion Publications publish Dr. Moore's music. He also self-publishes many of his own manuscripts, which can be found here on his website.
About his piece Halo, Moore writes:
"Halo is written for percussion trio and is one of the first pieces I composed while beginning my compositional studies at LSU under Dinos Constantinides and Brett Dietz. The term "halo" refers to the optical phenomena that occur when the light from the sun or moon is reflected or refracted by ice particles in the atmosphere causing a ring of colored light to appear around the celestial body. This serves as inspiration for the piece and is portrayed throughout the piece from the instrumentation to the compositional processes."
Duration: 7 minutes
Gemma Peacocke is a composer from New Zealand who currently resides in Brooklyn, New York. Gemma's music works in both acoustic and electronic sound worlds, and she is interested in how music can amplify the voices of under-heard groups of people. She is a co-founder of Kinds of Kings, a collective of US-based composers focused on producing immersive and inclusive work.
About her piece Death Wish, Peacocke writes:
"I wrote Death Wish after watching a short film featuring New Zealand survivors of sexual assault. One of the survivors, Hinewirangi Kohu-Morgan, spoke about the out-of-control spiralling of her life for many years and how she developed what she called a 'death wish.' In the piece I thought about the spooling and unspooling of energy and how we are all bound and driven by forces both within and beyond ourselves.
"With the greatest of respect for Hinewirangi Kohu-Morgan who has used her life to create art and music and to help survivors of abuse and those who have perpetrated abuse.
"I ōrea te tuātara ka patu ki waho. Aroha nui."
Duration: 10 minutes
São Paulo-born composer Rodrigo Bussad is currently pursuing his Ph.D. degree in Composition at The University of Chicago. He has won numerous awards, including the Student Division and Professional Chamber Music Division of the American Prize in Composition, Ukho Ensemble Workshop and the Valencia International Performance Academy (VIPA). Bussad's music has traveled the Americas, Europe, and Asia, with performances by renowned ensembles including the Orchestre Philharmonique de Radio Forance, the Grossman Ensemble, Spektral Quartet, Imani Winds, Ukho Ensemble (Ukraine), Honk Kong New Music Ensemble , BrowerTrio:B3 (Spain), Ensemble monoContraio (Italy), cross.artEnsemble (Germany), and ABSTRAI Ensemble (Brazil). Bussad recently co-produced the newest album by NanaFormosa Percussion Duo (Taiwan), which includes his marimba duo "Moon Inside (II)" as the title track.
About his piece Kodama, Bussad writes:
"In Japanese lore, the term Kodama has many different meanings in different eras. Kodama were said to be spirits, nature deities that dwelled in trees. Some believed that Kodama were not linked to a single tree but could move nimbly through the forest, traveling freely from tree to tree. But they were also a sound; echoes that reverberated through mountains and valleys were said to be Kodama. The sound of a tree crashing in the woods was also said to be the plaintive cry of Kodama.
"In composing this work for Third Coast Percussion, I met with the quartet for a series of workshops. I began by gathering different instruments that could be combined into a collection of sounds that could act as one instrument. I tried to find the inner voice of this new instrument, and create musical ideas that are interlaced with the physicality of the instrument itself."
Duration: 11 minutes
Third Coast Percussion's programs are supported by The MacArthur Funds for Arts and Culture at Prince Charitable Trust, The Illinois Arts Council Agency, the City of Chicago Department of Cultural Affairs and Special Events, the Aaron Copland Fund for Music, the Amphion Foundation, the Gaylord and Dorothy Donnelley Foundation, and the Alice M. Ditson Fund at Columbia University.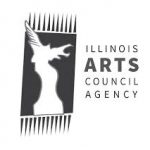 .