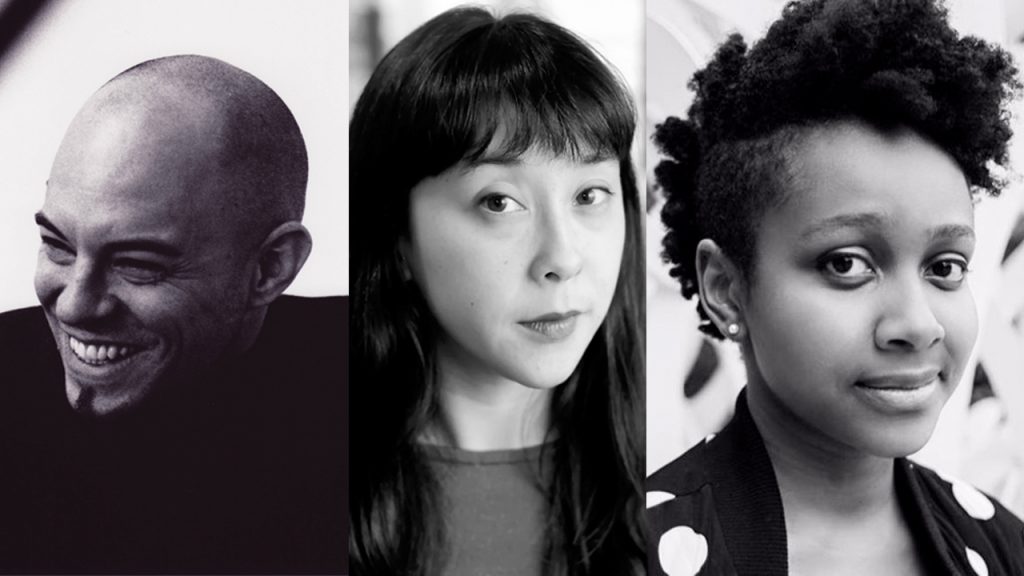 PROGRAM NOTES
Ayanna Woods is a composer and performer from Chicago, IL. She earned her BA in music at Yale University. Woods' work has been performed by the Chicago Children's Choir, ZRL, Fifth House Ensemble, Wet Ink Ensemble, and Longleash Trio, among others. Her music has also appeared in a range of film and theater projects, including the Emmy-nominated web series Brown Girls and an original Manual Cinema play No Blue Memories, based on the life of Gwendolyn Brooks. In 2018, she was a vocalist in the world premiere of PLACE, a new work by Ted Hearne, Saul Williams and Patricia McGregor. She is the bassist for TASHA and Michael Albert Group. Her music explores the spaces between acoustic and electronic, traditional and esoteric, wildly improvisational and mathematically rigorous.
"The Triple Point of a pure substance is the temperature and pressure where it can be a solid, liquid, and gas in equilibrium. That sounds a lot more tranquil than it actually is; you can find videos online of liquid bubbling into gas, rapidly freezing and then exploding and melting into liquid again. In some ways it's always the same, and in some ways, it never stops moving. It's something that's stable on the one hand, and colliding with itself on the other.
"This title came out of one of our workshops together as the piece was taking shape. We talked about the sound world being meditative and groovy at the same time. That's something that I tried to lean into as I was writing."
-Ayanna Woods
Triple Point was composed as part of Third Coast Percussion's 2017-2018 Emerging Composers Partnership, made possible by generous support from Louise K. Smith, with additional support from the Sargent Family Foundation.
Duration: 6 minutes
—-
Robyn Jacob is a pianist, singer, composer and educator who lives and works on the unceded territories of the Sḵwx̱wú7mesh, Musqueam and Tsleil-Waututh Nations. She has toured Canada and internationally with her avant-pop project Only A Visitor, who have released three albums to date and are currently collaborating with sound designer Nancy Tam on a multi-media production called "Double Happiness: Detour This Way." Her recent composition projects explore writing for unusual ensembles, as well as collaborations with visual artists and instrument makers. In early 2020 she celebrated the release of Earth Leaps Up on the label elsewhere music with her duo The Giving Shapes in collaboration with harpist Elisa Thorn. Since 2012 she has been part of the multi-disciplinary arts collective Publik Secrets, currently artists in residence at the Hadden Park Field House with the City of Vancouver. In 2013 she toured Bali with Gamelan Gita Asmara, and has since been co-leading Gamelan Bike Bike. Robyn has received a Bachelor's degree in Music from the University of British Columbia, and has completed residencies at the Banff Centre for the Arts and Joya AiR in Spain. She has been teaching music and piano privately for over 10 years.
"Much of my experience with percussion music has been the study of Balinese Gamelan, which is traditionally learned by rote. Around the time I started composing Transference and Zoosemiotics, I learned that humpback whales learn their songs by rote as well. Through further research, I was drawn to the beautiful sonograms that, in a poem of images, made visual the syntax of the whales' songs. These graphs, which show pitch and texture through time, illustrate the clearly delineated and repeated themes of the songs. I wondered what could be shown by delving into the form of a song created by another species. With the growth of human mega-culture, the whales' transmission of their songs seemed almost like a parallel form of 'trending.' I wanted to explore the tension that comes from the struggle to adhere to the form developed by another – and not only that but a collectively composed work of another species. No one knows what purpose the humpback whale song serves, and similarly, the reasons why people feel the need to perform is also a vast and indefinite discussion. I became interested in the performative actions of whales, such as is featured in films like Blackfish and appears from time to time in the news (for example, the case where a mother orca dragged her dead calf around for seventeen days). In the end these questions guided my composition process, in what is perhaps just an elaborate homage. Regardless, I am grateful to work with the beautiful sonograms that were first published in the journal Science by Payne and McVay (September 1971), and to draw inspiration from another emotionally intelligent being, who creates for reasons we can only begin to try and understand. I'd like to thank the members of Third Coast Percussion for inviting me along in this adventure."
– Robyn Jacob
Transference and Zoosemiotics was composed for Third Coast Percussion's Emerging Composers Partnership program, with lead support from Louise K. Smith, with additional support from the Sargent Family Foundation, and Third Coast Percussion's board of directors, in honor of Samir and Emily Mayekar.
Duration: 13 minutes
—-
Born in Zurich, pianist, composer, and producer Nik Bärtsch has developed a distinct and prolific musical voice that draws on funk, minimalism, and Japanese ritual music. He is pianist and composer for the ongoing "Ritual Groove Music" project, which he has developed over the last 20 years through albums and performances with his bands Mobile and Ronin. In addition to his performing work, he regularly teaches through international workshops, lectures, and residencies. He is the founder of the label Ronin Rhythm Records, co-founder of the Music club EXIL in Zurich, and co-founder and co-artistic director of the Indie-Classical Festival "Apples and Olives" in Zurich. He has been an ECM artist since 2006.
WORDS END ON THE COAST
"Third Coast Culture is a piece based on my understanding of Third Coast Percussion's music-playing culture. I myself have always looked for a 'third way' of experiencing the world and expressing myself: a creative, alternative perspective to pure tradition. In music this means a fruitful third path – nourished in one way by clearly composed and subtly interpreted music, generally labeled 'classical,' and in another way by the working band-oriented, oral or communal way of creating groove music together. These music cultures usually require different strategies for rehearsing, playing and presenting music. But for me they have much more in common than separation-trained minds think, and they clearly are results of the same musical sources and of our need to share music together.
"A group like Third Coast Percussion has an inspiring fresh post-genre and post-'-ism' attitude, both mentally and aesthetically: their curiosity, enthusiasm and way of working are important drives, whereas 'membership' in a scene, style or defined culture identity is secondary. Like myself, TCP sees the journey of music as an evolutionary process of learning and understanding the world and us — not as a cultural flow fixed by tradition, but also not so indecisive as the multicultural 'anything goes.' Their working spirit is based on differentiation, precision and dedication. They cultivate the scientific explorer attitude with a childlike, playful enthusiasm, which we all should preserve and cultivate in ourselves. This is why 'Third Coast' as a term inspired me not mainly geographically, community oriented, or as demarcation, but as a mind- and heart-opening attitude towards life, culture, music.
"I tried to bring this positive spirit and its power into the piece to say, 'Thank you, Third Coast Percussion, for your way of working and enriching the music ocean!' The music can speak for herself; we are just standing on her coast to listen."
-Nik Bärtsch
Nik Bärtsch's Third Coast Culture was commissioned by the Third Coast Percussion New Works Fund.
Duration: 13 minutes
—-
What would you have paid to see this event? Help us continue to create high quality livestream events by making a donation today! Click here to donate.
You can also donate via Venmo or PayPal: @thirdcoastpercussion